Our Financial Privacy Policy and Disclosure
We are licensed for life and health insurance in Ontario.
Investment Statement and Fees Explained
Companies' products made available
We have access to the following companies' products:
The Great-West Life Assurance Company
Manulife Financial
Royal Bank of Canada
Blue Cross
Equitable Life
Empire Life
Humania
IA Excellence
Canada Life
Sunlife Financial
In addition, we offer Mortgage Services with Mortgage Brokers Ottawa.
Nature of relationship with company (ies)
No insurer holds an ownership interest in our business, nor do we hold a significant interest in any insurance company.
Compensation
We will be paid by the company that offers the product you choose. We are compensated by a sales commission for most products at the time of sale, and may receive a renewal (or service) commission. For certain products, we may receive a referral fee.
We may be eligible for additional compensation, such as bonuses and non-monetary benefits, such as travel incentives and may be entitled to participate in a share purchase plan. In respect of certain products, the commission may be different than the standard commission scale provided by the company providing the product.
Conflict of interest
We take the potential of a conflict of interest seriously. We will notify you if there is a conflict in which we become aware in regards to our services. Our services always take into consideration your financial needs.
Our commitment to protecting your privacy
Protecting the privacy of your information is important to us and to the companies whose products and services we offer.
As your advisor, we'll create and maintain a client file for you. This file contains personal information related to you, which we'll gather in order to assess your financial situation, offer you products and provide you with ongoing service. We'll also keep records of our meetings and phone calls, and instructions that you give us in regard to the products and services that you've purchased.
If and when you purchase any product or service, you'll complete specific application forms for each. These application forms will request personal information from you that the company offering the product or service requires in order to underwrite or issue the product. You'll be signing such forms to consent to the use of your information by the company for the purposes indicated on the form. From time to time, you may be required to complete additional forms to confirm your requests for changes in your products or services, or to initiate a claim or benefit. We may keep copies of these forms in your file and the company handling your request may also retain this information.
Your file is kept in our primary place of business. Access to information in your file is limited to Aspire Wealth Group or persons we have authorized to act on our behalf when the information is required for the performance of the person's duties, to the companies we represent in providing, or seeking to provide, products or services to you, to persons you have granted access, and to persons allowed by law.
"No question from us is a silly one and he is proactive in suggesting how to manage our portfolio."

Devon & Sean Hogan

"Jason is incredibly honest, one of the most ethical and knowledgeable people in the industry"

Richard Valente, President, Fratelli Restaurants

"I would highly recommend Aspire Wealth Group to anyone seeking a financial advisor."

Phil Murphy, Realtor with Keller Williams

"Together we built an investment plan that we feel very comfortable with."

Trisha Owens and Matt Berezowski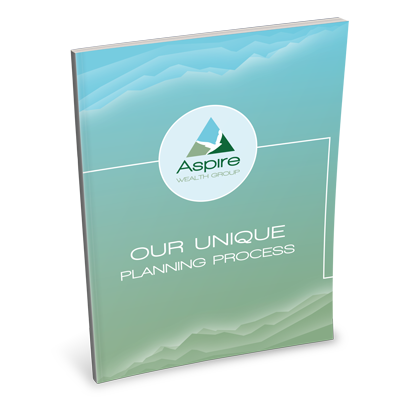 Our Unique Planning Process
We are an independent financial services firm that helps individuals, families and business owners prepare for life's events through financial planning. Download our unique Planning Process to learn more.